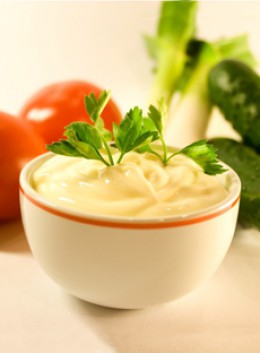 Today, mayonnaise is so popular that it is present in almost every cuisine of the world.
There are several versions about how mayonnaise was invented. The most popular is the following. It all happened in the French city of Mahon in 1756, when the English occupied French lands. A big problem of product supply took place in the French army of Francois Arman du Plessy. Only oil, eggs and lemons were left. Because everyday omelets made soldiers sick, an order was passed to the cook to make some unusual dish from the products that they had. The cook, as he was unable to find any other products, decided to prepare a sauce from oil. The sauce turned out to be very tasty. It was called
mayonnaise
, as suggested by the name of the city where it was created - Mahon.
Mayonnaise consists of oil, water, egg powder, dry milk, vinegar and species.
Spectrum Organic Mayonnaise with Olive Oil -- 12 fl oz